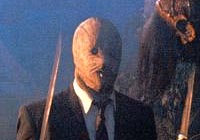 Its Friday which means I won't post over the weekend, which means that I sort of feel obligated to post now. So, here goes.
The
BBC reports
that
Serenity
has moved into the top slot in the UK proving that, indeed, you cannot stop the signal. The UK also has
Cronenberg's newest
in the 4th spot. This just proves that the Brits know good cinema when they see it. After my viewing of A History of Violence, I began ruminating on Cronenberg's films. Has he made a film I don't like?
Let's find out.

Shivers
,
Rabid
,
The Brood
,
Videodrome
,
Scanners
,
The Dead Zone
,
The Fly
,
Dead Ringers
,
Naked Lunch
,
M Butterfly
,
Crash
,
eXistenZ
.
Of course there are a few that I haven't seen, but as far as track records go, Cronenberg is a marathon man. Next up?
London Fields
based on the amazingly mediocre novel of
Martin Amis
.
When I imagine Cronenberg directing a film, I like to imagine him as the character he portrayed in
Night Breed
(horrible film with some ok visuals, and a great turn by Cronenberg). (See picture)
Anyway, on the cinema front, I believe that Bill and I will finally be going to see MirrorMask this weekend. Also up for next week--
StarBall
with
Mike
and
Janice
.
And also on tap--
I'm torn for tonight. Do I go to
Element
to see
Tyler Stadius
? Or do I go to
Trinity
to see
Groove Junkies
? If I go to Element, then I'm a lot closer to home when I decide to bounce. Both sets should be good. Tyler's been dropping some shit from
Sensei
and
Urban Torque
that I just really dig on, and the Groove Junkies
first disc out on OM
is drop-it-like-its-warm-and-needs-lounge-by-the-pool. Both crowds will have a high ick-factor, but I'll probably know more people at Element. What's a boy to do?